The Gatlinburg Trolley System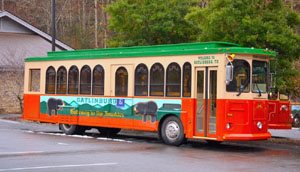 Gatlinburg's trolley system is the fifth largest mass transit system in the state of Tennessee. The trolley system was established in 1980 with a fleet of only six trolleys. Gatlinburg now has 20 trolleys servicing approximately 50 miles in and around Gatlinburg and surrounding areas.
Visitors can pick up free trolley maps at each of the Gatlinburg Welcome Centers. Park your car and hop aboard the Gatlinburg Trolley (all but Tan and Pink routes) unlimited times for only $2.00 per day! The Trolley Pass is available at numerous participating Gatlinburg lodging facilities, Gatlinburg City Hall, as well as the two Gatlinburg Welcome Centers, noted on the front of the map.
More Information, Maps & Routes can be found at he official site
www.gatlinburgtrolley.org
The Pigeon Forge Trolley System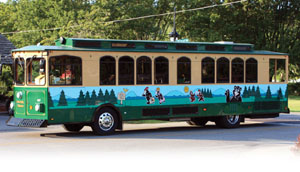 The City of Pigeon Forge started the Fun Time Trolley system in 1986 to provide a safe, affordable, and convenient "hop on, hop off" type of transportation service for the hundreds of thousands of people that visit the area each year. The Fun Time Trolley's main office and trolley terminal is located at 186 Old Mill Ave., beside Patriot Park and just a few feet from the towns historic "Old Mill". Today with a fleet of more than thirty trolley buses and a few smaller cutaway buses the Fun Time Trolley services the city of Pigeon Forge and a portion of Sevierville.
When you visit the area we encourage you to leave your vehicle parked, relax, and enjoy the sites as you travel from destination to destination with our friendly and informative drivers doing the driving. As we say, "Park Your Cares, And Ride With the Bears. With the purchase of an all day wristband you can ride all day for $2.50, hopping off and on the trolleys as often as you like.
More Information, Maps & Routes can be found at he official site
www.pigeonforgetrolley.org